Home
About Us
Alumni Awards
The Maryland Awards
Each year, we celebrate and honor the achievements of seven outstanding Terps at A Celebration of Terps: Featuring The Maryland Awards. These awards recognize fearless alumni who have risen to the highest levels of public service, launched successful companies and made groundbreaking discoveries.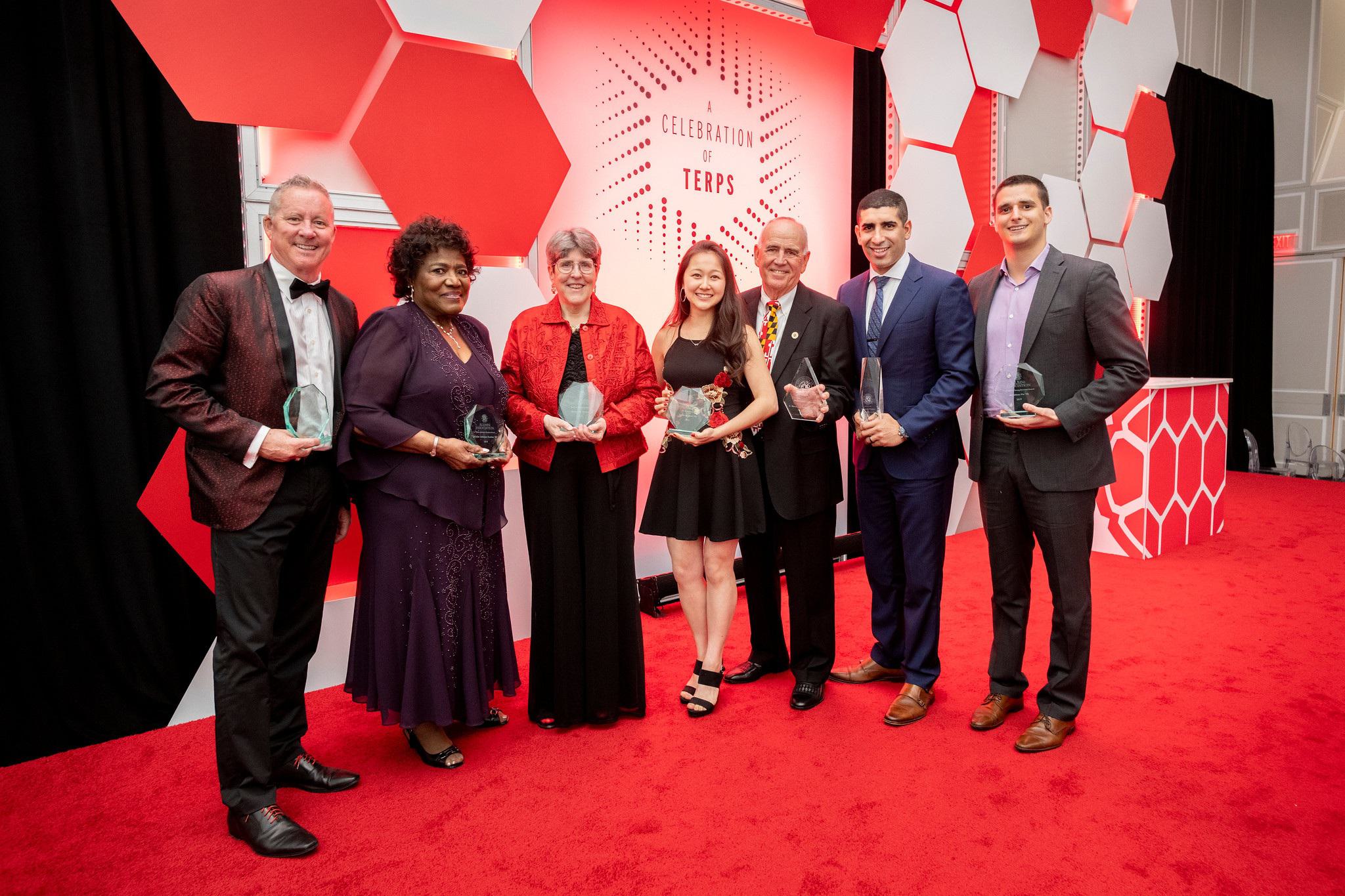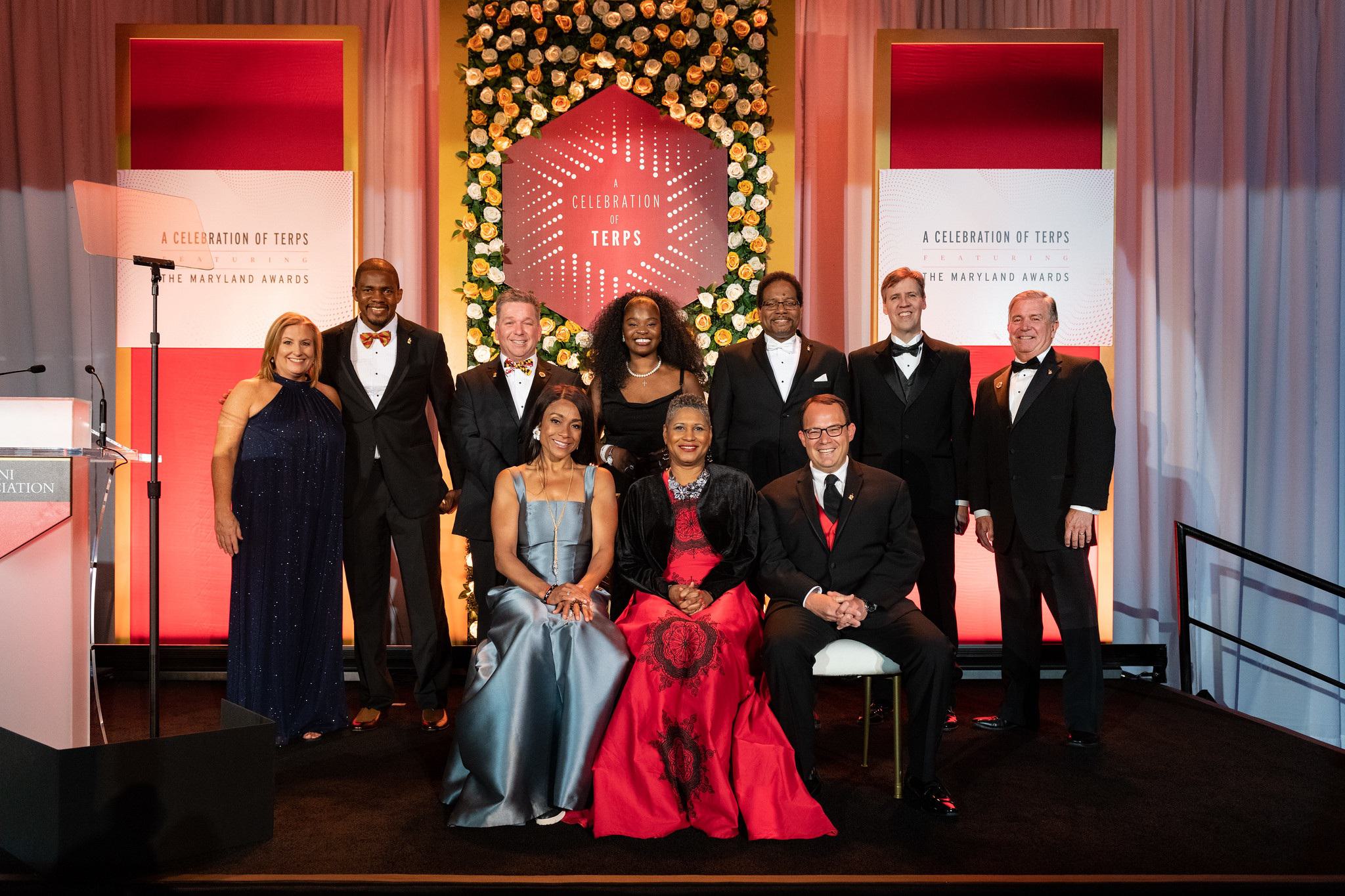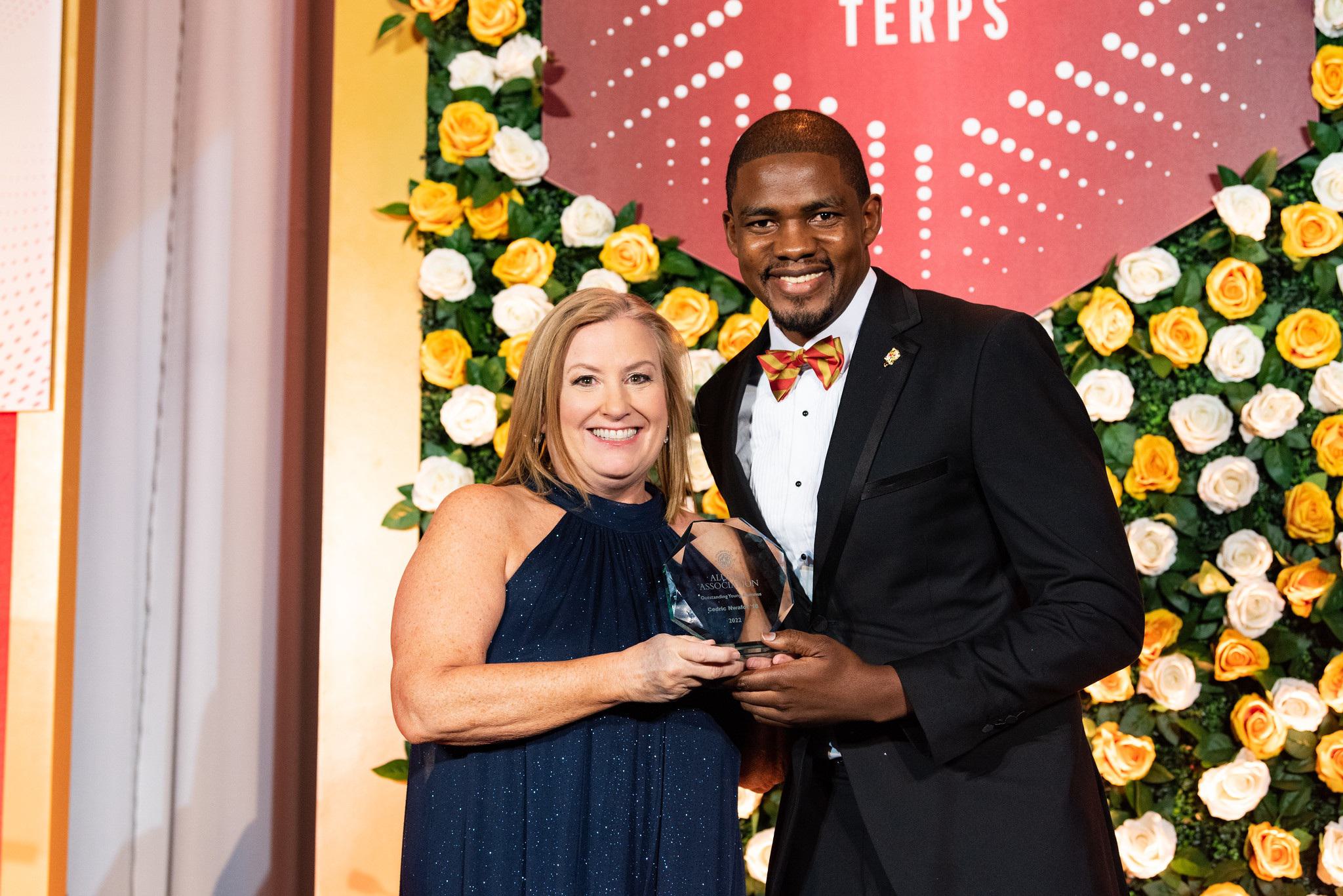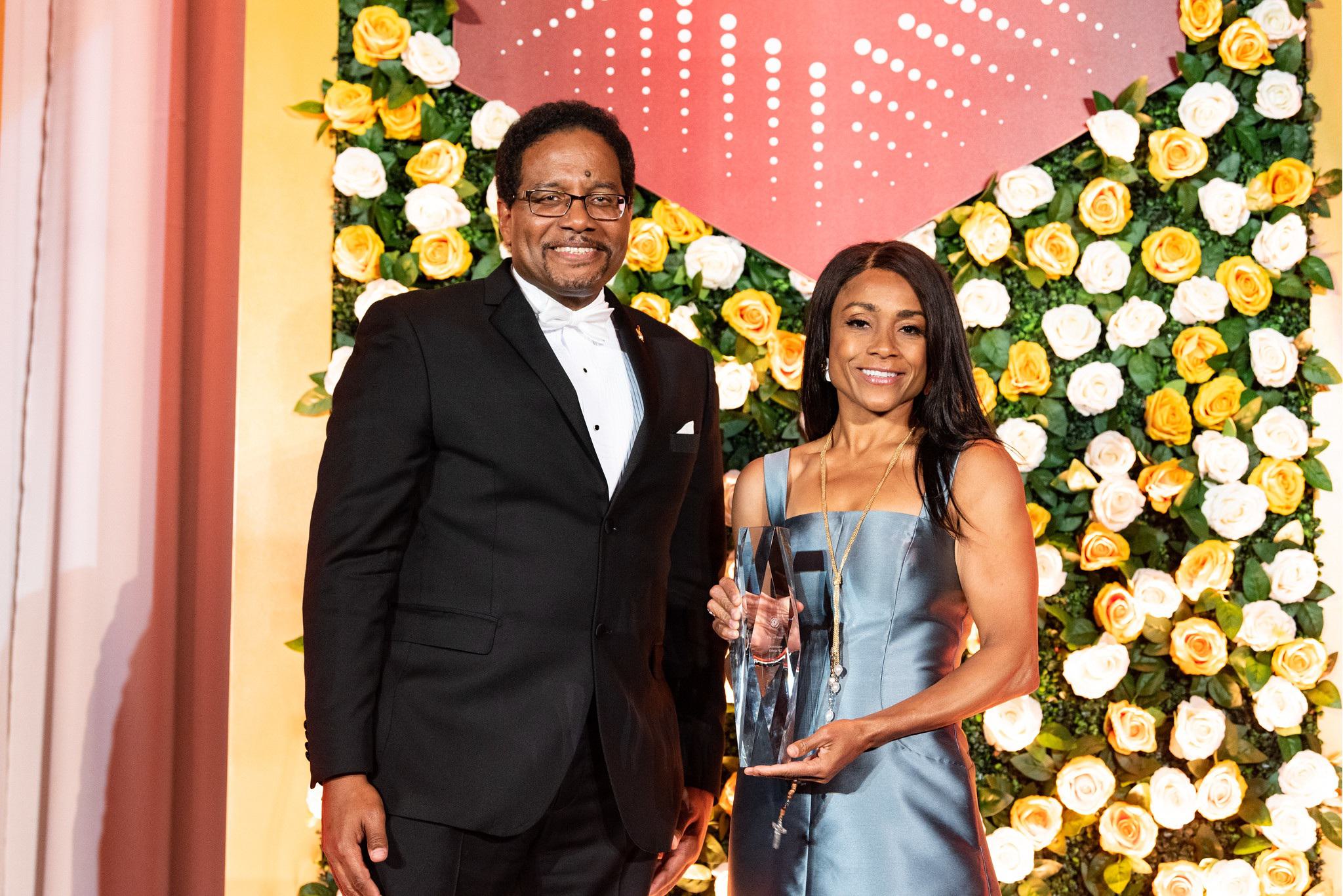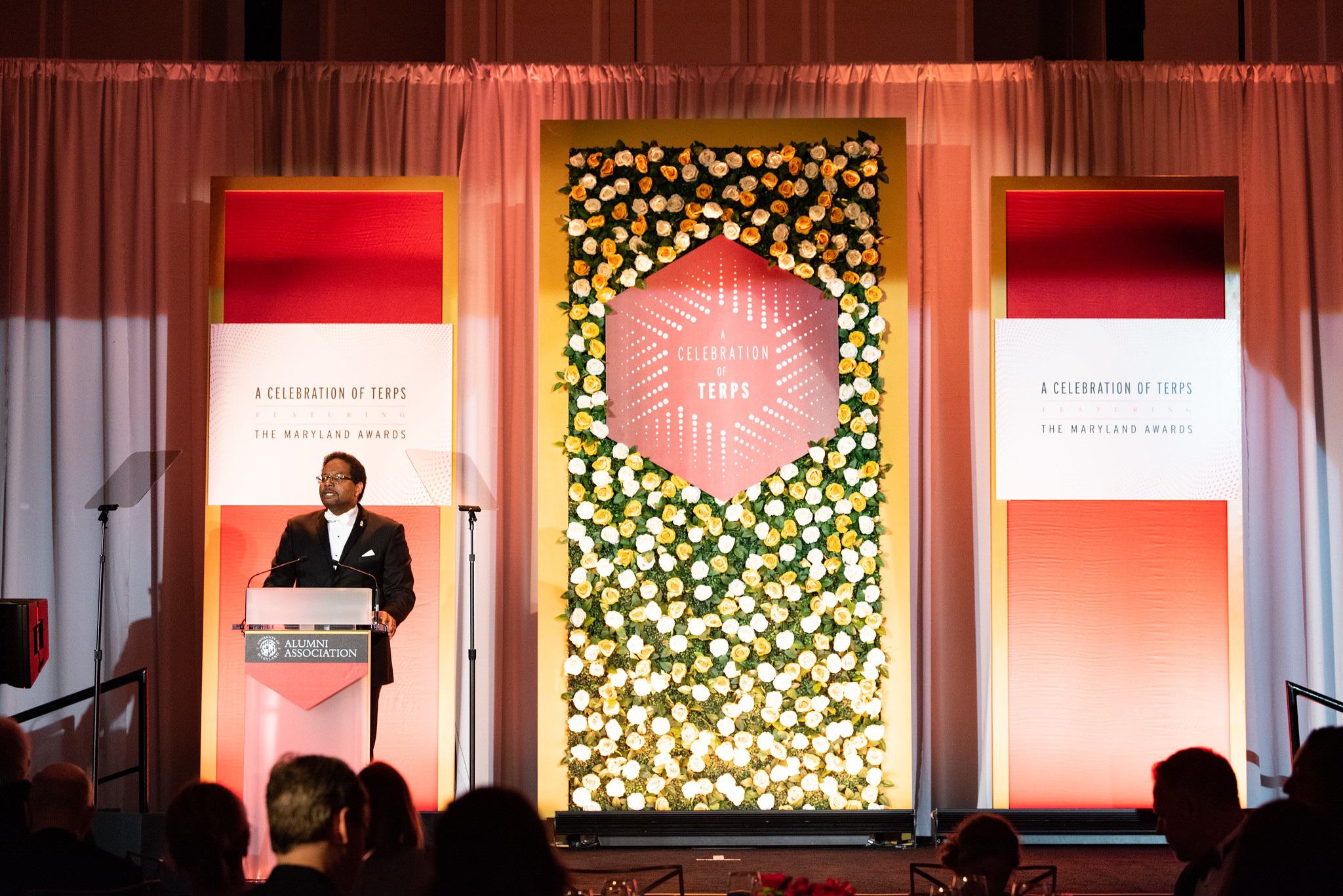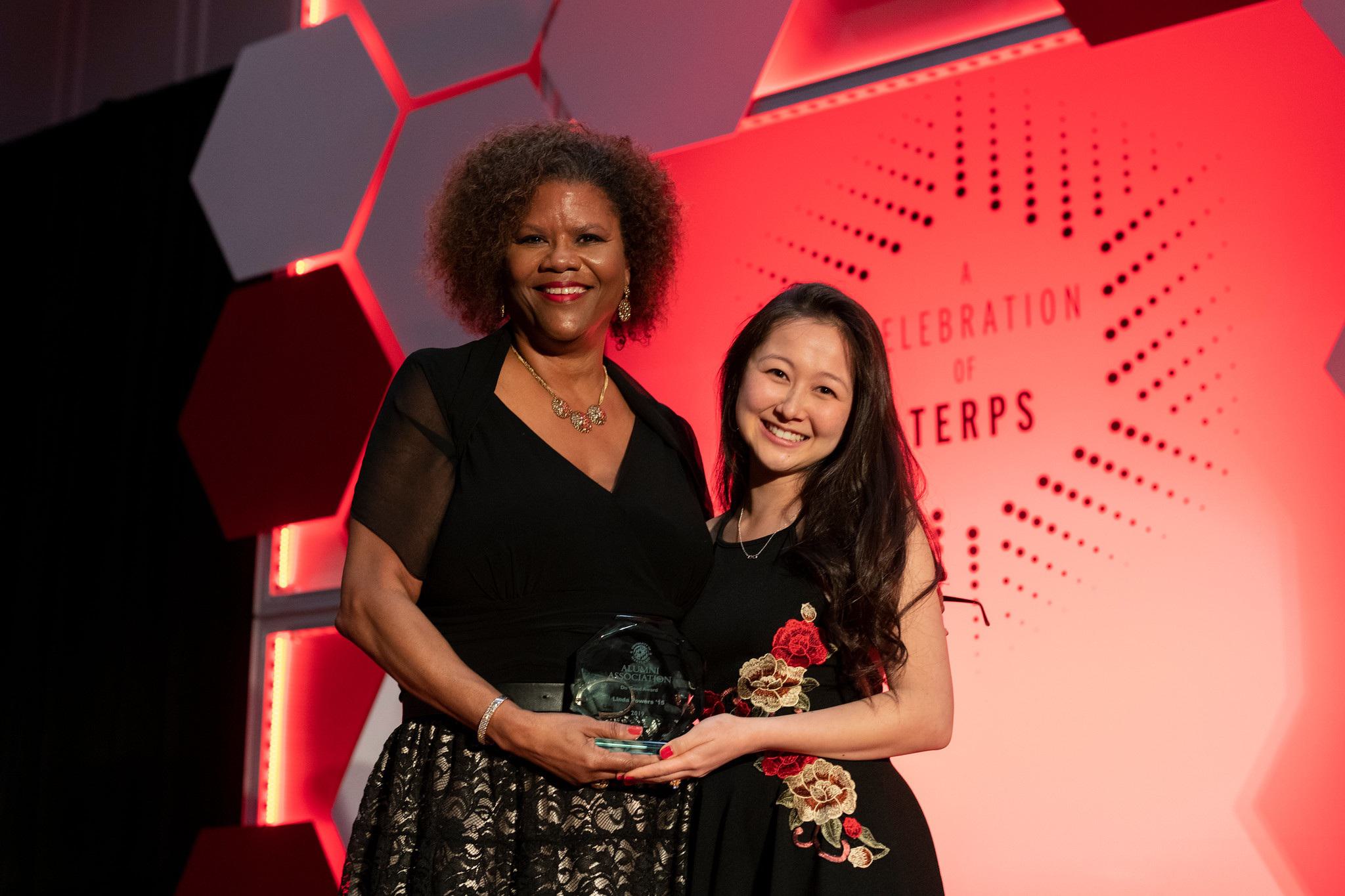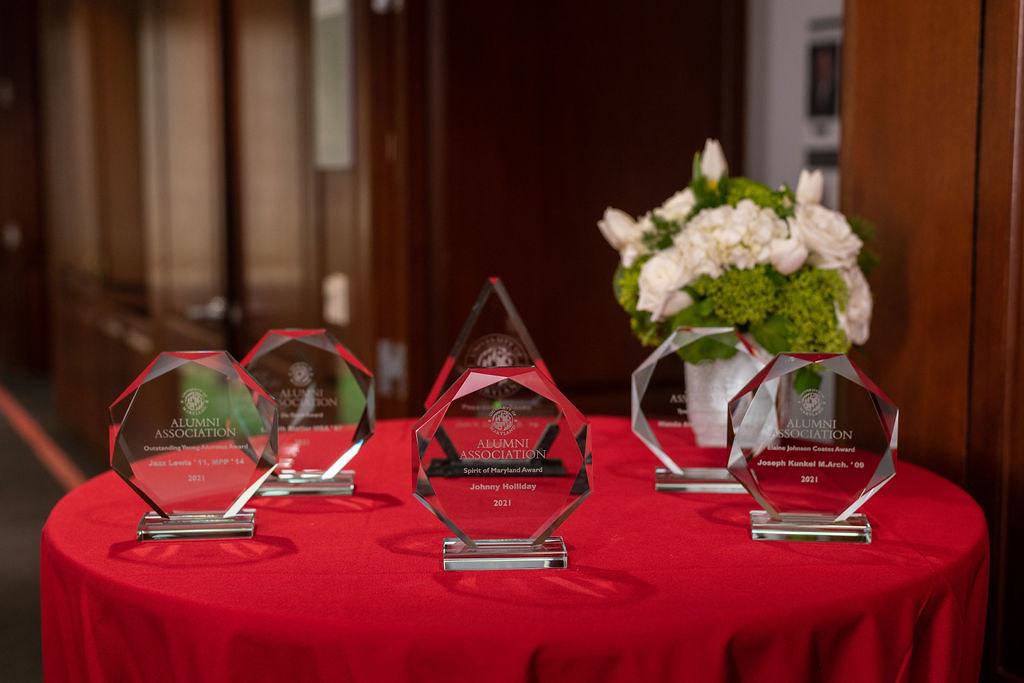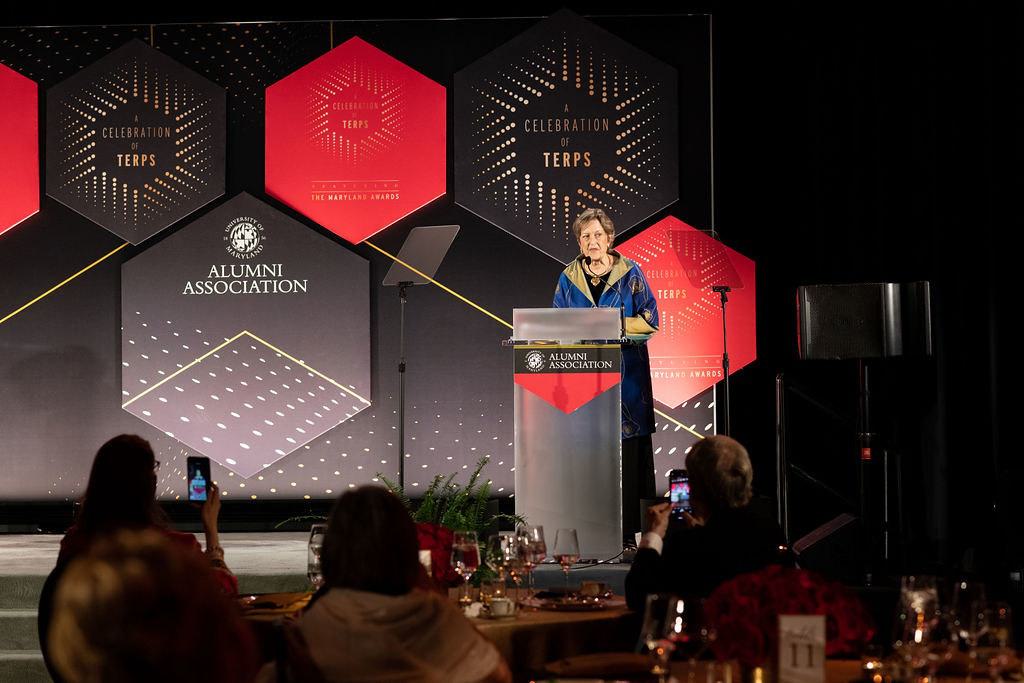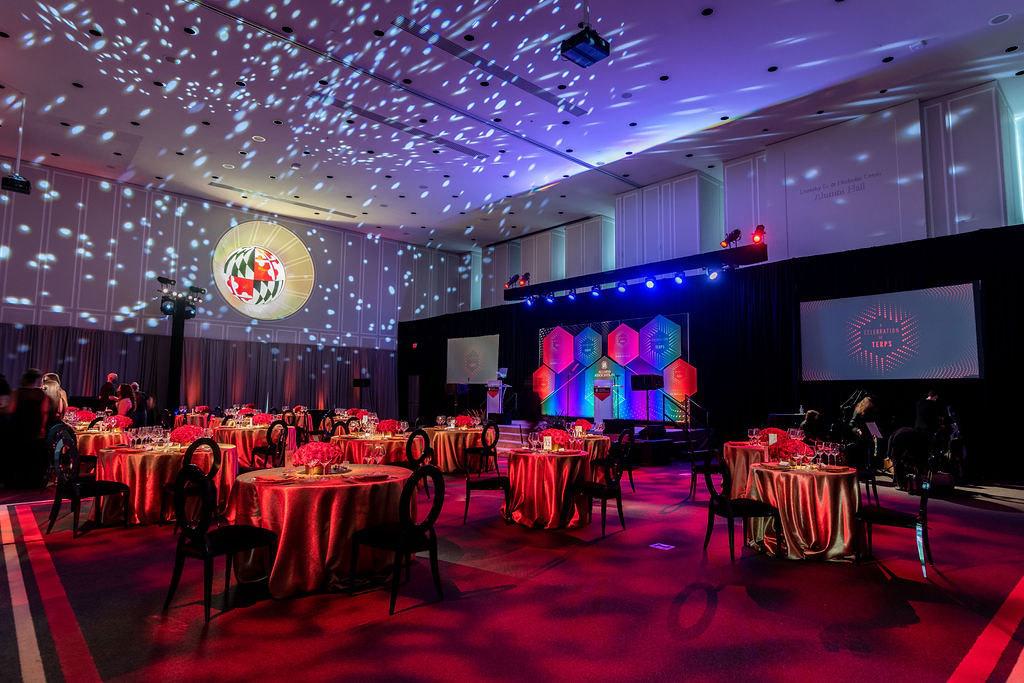 Award Categories

Alumni Association Hall of Fame Inductee
Honors an alumnus/a who has received state, national or global fame for their significant, positive impact on society. This award is presented to our most notable alumni who instill Maryland pride and reflect the core values of the university.
President's Award
Honors an alumnus/a or community member who has achieved national recognition for excellence in his/her profession or field. This award is presented to our most noteworthy alumni who excel in their field.
Outstanding Young Alumnus Award
Honors an alumnus/a under 35 years old who has completed their undergraduate degree within the last 10 years and has distinguished themselves personally and professionally. This award is presented to an accomplished alumnus/a who is on the rise.
Spirit of Maryland Award
Honors an alumnus/a or community member who reflects the best of the university spirit. This award celebrates those who embody and inspire Maryland pride.
Tyser Gottwals Award
Honors an alumnus/a who has demonstrated outstanding service to the university, gifting their time and/or talents. This award is named for Ralph J. Tyser '40 and Abram Z. Gottwals.
Elaine Johnson Coates Award
Honors an alumnus/a who has made a significant and sustained contribution that fosters diversity and inclusion nationally and/or globally. This award is named for Elaine Johnson Coates '59, who is also the inaugural recipient.
Do Good Award
Honors an alumnus/a who has provided extraordinary service to the world and who represents the ideals of Doing Good.
Nomination Process
Nominations are collected annually from July 3 - January 5 . Nominations for 2024 awards are now open.
All members of the Terp community are welcome to submit a deserving alumnus/a for one of the highlighted above (self-nominations are also accepted).
Alumni may be nominated for more than one award.
Nominations must be submitted electronically through the online nomination form which consists of:

Nominator's contact information
Nominee's contact information
The nominator's personal case for why this candidate should receive the award
Any supporting documentation
Selection and Recognition
All nominations must be received by January 5th.
All nominations will be reviewed by the University of Maryland Alumni Association Board of Governors (BOG) awards & recognition committee. The committee will make selections and recommendations to the BOG executive committee and university leadership who will confirm the selections.
There is one recipient per award.
Acceptance of the award is contingent upon attending the Celebration of Terps event.
The Maryland Awards Archive
2022
Dr. Sherita Hill Golden MD, MHS '90
Hugh P. McCormick Family Professor of Endocrinology and Metabolism
Vice President, Chief Diversity Officer, John Hopkins Medicine
2021
Jody K. Olsen Ph.D. '79
Former Peace Corps Director
2019
V. Raymond Ferrara, CFP® '70
Chair/CEO, ProVise Management Group, LLC
2016
Kevin Plank '96
Founder & CEO, Under Armour
2013
Harvey L. Sanders `72
Former President and CEO, Nautica Enterprises Inc. 
2012
Edward Snider '55
2011
William E. Mayer '66, M.B.A. '67
2009
Robert Fischell M.S. '53, D.Sc. (Hon.) '96
2008
Lt. Gen. Julius Becton, Jr. (Ret.) M.A. '67
former commissioner, American Battle Monuments Commission
2007
Michael D. Griffin Ph.D. '77
administrator, NASA
2006
Robert M. Parker, Jr. '70
publisher, The Wine Advocate
2005
Jeong H. Kim Ph.D. '91
president, Bell Laboratories, Lucent Technologies, Inc.
2004
Charles Fefferman '66, Ph.D. (Hon.) '79
2003
Herbert Hauptman Ph.D. '55, D.Sc. (Hon.) '85
president, Hauptman-Woodward Institute
2002
Gordon England '61
deputy secretary, Homeland Security
2001
John Apel '57, M.S. '61
president, Global Ocean Associates
2000
Carleton Fiorina M.B.A. '80
CEO, Hewlett Packard
1999
Norman "Boomer" Esiason '84
Maryland quarterback; NFL MVP; founder, Boomer Esiason Foundation
1998
Odonna Mathews '72, M.B.A. '82
vice president for consumer affairs, Giant Foods
1997
Robert H. Smith '50
president, Charles E. Smith Construction, Inc.
1996
Joseph Gildenhorn '51
ambassador to Switzerland
1995
James D. McGroddy '65
vice president of research, IBM
1994
Joseph R. Hardiman '59
president, NASDAQ
1993
Ruth M. Davis M.A. '52, Ph.D. '55
scientist
1992
Joseph D. Tydings '51
attorney, former U.S. Senator
1991
Michael D. Dingman D.B.M. (Hon.) '89
chairman, Henley Group
1990
Jane N. Henson '55
vice president, Jim Henson Associates
1989
Jay Nussbaum '66
vice president, Xerox
1988
Gen. John W. Vessey, Jr.
retired chairman, Joint Chiefs
1987
George V. McGowan '51
president, BG&E
1986
Allen J. Krowe '54, B.D.M. (Hon.) '94, Sr.
vice president, IBM
1985
James W. Rouse
founder, Rouse Company
1984
John M. Dennis '43
dean, University of Maryland Medical School
1983
Waldo H. Burnside '49
president, Carter Hawley Hale
1982
Louis L. Goldstein D.P.S. (Hon.) '89
comptroller, State of Maryland
1981
A. James Clark '50
president, Clark Enterprises
1980
The Hon. Harry R. Hughes '49
former governor, Maryland
1979
James M. Henson '60
creator of "The Muppets"
1978
James H. Kehoe, Jr. '40
athletic director, University of Maryland
1977
The Hon. Charles M. Mathias
U.S. Senator
1976
Steny H. Hoyer '63, D.P.S. (Hon.) '88
president, Maryland Senate
1975
Jane Cahill Pfeiffer '54, Litt.D. (Hon.) '79
vice president of communications, IBM

H. Russell Knust '40
vice president, Bethlehem Steel
1974
Robert C. Murphy '48
chief judge, Court of Appeals of Maryland
1973
David K.E. Bruce '22
ambassador to Great Britain, West Germany and France

Mary Stallings Coleman '35
judge, Michigan Supreme Court
1972
Marvin Mandel '39
former governor, Maryland
1971
Arthur B. Hersberger '32, M.S.'33, Ph.D. '36
executive vice president, Atlantic Refining Co.
1970
Samuel J. LeFrak '40, D.P.S. (Hon.) '90
chairman, LeFrak Organization
1969
Carlisle Humelsine '37
president, Historic Williamsburg Foundation
1968
Galo Plaza
former president, Ecuador and secretary general of OAS
1967
John W. Smith '21
chairman, Seaboard Coast Line Railroad
1966
Russell W. McFall '49
chairman, Western Union
1965
Jerome S. Hardy '39
publisher, "Life" magazine
2022
Cedric Nwafor '18
Executive Director, ROOTS Africa
2021
Jazz Lewis '11, MPP '14
Democratic Caucus Chair, Maryland State Delegate
2019
Jonathan Fix '16
Founder and Chairman, Terps Against Hunger
2016
Ali von Paris '12
CEO & Founder, Route One Apparel
2013
Kevin M. Schoonover `06
Director of Strategy and Business Development, Alliant Techsystems
2012
Eddie Frederick '03
2011
Joshua K. Goldstein '05
2009
D. Haroon Mokhtarzada '01
Zekeria Mokhtarzada '01
2008
Christina M. Lagdameo '98
Social Welfare Advocate
2007
Michael R. Kerr '99
founding principal, Achievement First Crown Heights Charter School
2006
E. J. Henderson '02
linebacker, Minnesota Vikings
2005
Sujal M. Patel '96
founder and chairman, Isilon Systems, Inc.
2004
Kevin Plank '97
2003
Sergey Brin '93
2002
Aaron McGruder '98
2001
Craig A. Thompson '92
2000
Ranjit S. Dhindsa '91, '92
1998
Patti Kim, '92
author
1997
Brian LeGette '89
entrepeneur
1996
Martin B. Goldberg '84
attorney, Lash & Goldberg
2022
Kirk Bell '88
Director, Enterprise Data, Fannie Mae
2021
Johnny Holliday
Voice of Maryland Basketball and Football (UMD Athletics)
2019
Anne S.K. Turkos
University Archivist Emerita
2016
Michael '81 and Mary M. Dana
CEO & President, Onex Real Estate Partners, and Four-Time Terp Parents
2013
Waldo H. `49 and Jean C. Burnside `50
Emeritus Trustee and Alumni Hostess
2012
Cliff '54 & Camille Kendall
2011
Charles '65 & Judith E. '66 Iager
2006
John "Jack" '47 and Jacqueline '49 Heise
long-time supporters of Maryland
Please note this award was established in 2004. It combines the Abram Z. Gottwals Award presented first in 1965, and the Ralph J. Tyser Medallion presented first in 1992. Both awards were presented for service to the university, and now one award bears both names.
2022
Jeremy D. Rachlin, ESQ. '02
Principal, Bulman, Dunie, Burke & Feld
2021
Wanda Alexis Alexander '81
President and CEO, WAA-LLC
2019
Steve Leonard '78
President and CEO American Bus & Sprinter Vans
2016
Robert Bedingfield '70
Retired Senior Partner, EY
2013
Erik B. Young, M.D. `74
Benefactor
2012
Leo Van Munching, Jr. '50
2011
John M. Brophy '71
2009
Alma Gildenhorn '53
2008
Pedro E. Wasmer '62
retired president, Somerset Capital Group, Ltd.
2007
Marilyn Berman Pollans M.A. '73, Ph.D. '79
retired associate dean, A. James Clark School of Engineering
2005
Marvin J. Perry '53
2022
Reginald Dwayne Betts '09
Founder and Director, Freedom Reads
2021
Joseph Kunkel M.Arch. '09
Principal, MASS Design Group; Director, Sustainable Native Communities Design Lab
2019
Elaine Johnson Coates '59
LCSW-C

2022
Lumnwi Audrey Awasom '18
Founder and Chief Executive Officer, Noble Uprising
2021
Seth Statler MBA '87
Director of Government Affairs, National Fire Protection Association
2019
Linda Powers '15
2019 DDS candidate, University of Maryland School of Dentistry